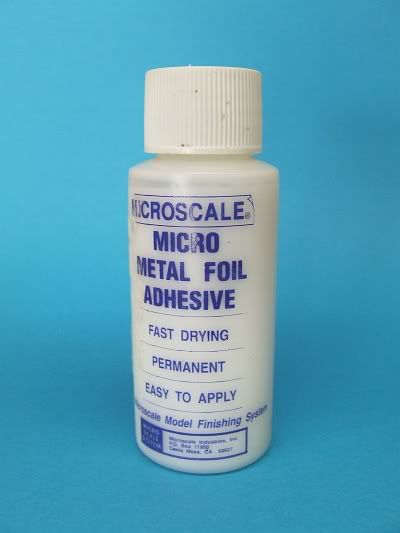 South Australia is slightly over the edge of the world. You can't get stuff here... I inquired at the biggest hobby shop in town about a polishing kit to develop a glass-like shine on gloss enamels and was told that, while they had heard of them, there was no point stocking them, as nobody (presumably besides myself) would ever buy one in this town. Just the same, Model Master Enamels are going out of stock here at mainstream stores, they're just not popular enough compared with Humbrol Enamels or Tamiya Acrylics, so the biggest shop in town is not going to restock, and they never had the full range anyway. If you need precise matches to historic colours, you're off to a specialist stockist...
So I actually had a bit of luck lately when I needed Microscale's Micro Metal Foil Adhesive. It was the right product for the job, and this time it turned out the shop actually did have in stock what I needed. I call it blind luck, as of all Microscale's wide range of great finishing products, this was the only one they actually stocked (and no, their nearest competitor has never heard of the range...)
Rant aside, this is a good product! It smells like PVA white glue, looks like it, albeit water-thin, but it grips like PVA never did. And it seems to be water-based, as you can clean up with water until it's cured, and with paint thinner afterward. It dries pretty quickly, a minute or two and it's off provided you're only using a small amount.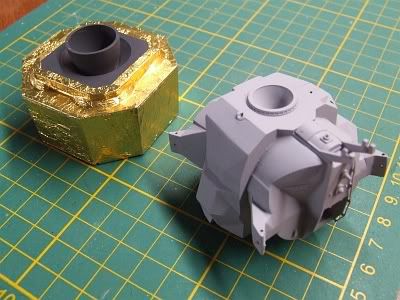 It's easy to use. Cut a piece of foil, brush the glue onto the back and wait until the 'milky' appearance has gone, then apply it to your model. There's some slippage time, but if you time it just right it'll grab pretty quick. Applying it firmly over a smooth surface, you can then burnish the foil to a smooth, gleaming finish. In my case, I was applying crumpled gold foil to a Lunar Module to replicate the gold Mylar thermal insulation of the Descent Stage, so a burnished final appearance was not involved. This was just as well, as I found the glue did not hold very well on the small sticking area of tiny, curved surfaces, so my application did not wrap tightly to the struts. In context it created a suitably bulky, 'packed' appearance just like the original, but I found you need to work with larger diameters of tubing to get a firm, tight contact between foil and plastic.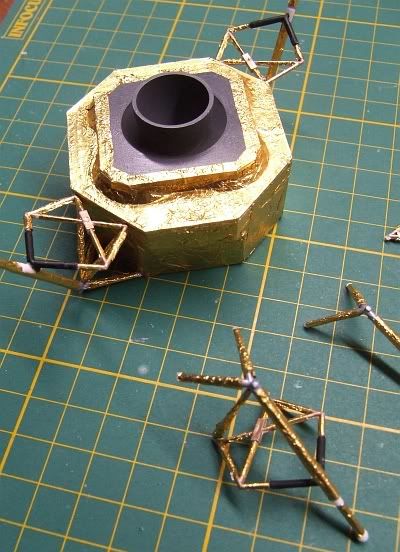 Nevertheless, I was impressed. As with every Microscale product I've tried (with the exception of Trimfilm, but that's another story), it works as advertised, is very economical and non-messy. This is a recommended product.
Find it at:
http://www.microscale.com
As a water-based formula it's okay to send through the post (like Talon Acrylics), as US airmail won't touch so many hobby products any more. That's another post too...