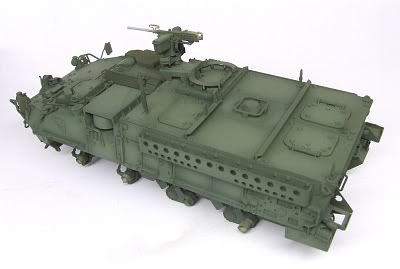 As promised, here's another look at "triple value monochrome," with the Trumpeter 1:35 M1126 Stryker as the subject. I started this one along with the Strv 103B as back to back projects, and both have built well (review posts coming up in due course), and both are now at the same stage, they've been through the paintshop and are waiting on the weathering process, decals, hull tools and antennas.
The first thing that strikes you about the NATO Green is just how grey it really makes the Swedish scheme look. When I mixed the Swedish shade it seemed particularly green to me, now it seems quite grey. Nevertheless, both shades were given the same treatment, and by the same ratios.
The fade coat, applied to the middle of panels and hatches, was NATO Green (Tamiya XF-67) lightened with 20% flat white (XF-2) and thinned by the standard 50%, or maybe a tad more. Likewise, the shadow coat, applied to the underside, under overhanging structures and in a subtle post-shade effect around the line of hatches and divisions in the armour, was mixed the same way, using 20% flat black (XF-1). The photos were taken at this stage.
The gradient from lightened to darkened across the base colour value seems quite steep at this point, and the temptation is to think maybe only 10% tinting should have been used. But the washes to follow have the effect of darkening the cumulative value of the model, as well as drawing all the tonalities together, so I'm not concerned at this point. If the values turn out to be too contrasting I can always slap on some more wash over the highlights to pull them back.
Drybrushing will be a slightly different operation, as it'll take place in enamels (I've not learned the trick of brush painting Tamiya acrylics yet… Unlike the Citadel range for Warcraft miniatures, they're not formulated specifically for brush painting, and while they airbrush like a dream I've learned to switch to enamels when it's time to break out the sables.) So I'll be mixing an equivalent tinted shade, perhaps starting with FS 34127 Forest Green or FS 34102 Medium Green, then lightening with white to profile edges.
I had hoped to have this batch of models finished at this time, but real life has a way of intruding… I better stop writing and get back to the bench!