Plastic modelling has been around now for over half a century, and one thing that well-cared-for molds have is shelf-life. One thinks of old molds 'showing their age,' but that is perhaps more to do with the sheer number of pulls taken from them. If they're properly stored, in a moisture-free environment, tooled steel should last, and it seems it does.
Lately Revell have been reissueing early kits under the 'Classics' label, in limited editions of 5000 pressings. This is probably the same group of molds returned to service about 15 or 20 years ago as the 'History Makers' series. Revell's 1:40th scale armour, originals of which have fetched high prices on the second hand market, seem to be putting in an appearance, and I was recently lucky enough to pick up their Nike Hercules missile for a good price from an eBay trader.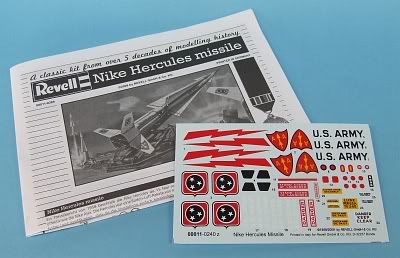 I find myself very impressed: the packaging reproduces the classic artwork, the instructions are Revell-standard, the decals are beautifully printed, and the molds seem to have lost nothing for their fifty years in storage. The model is blown in dark green styrene, and quite a large finished article is packed in a smallish box.
I first saw this model in what looks like a company promotional photo (note the classic packaging, it's the same painting on a differently shaped box) in a book dated 1961 (below) and have wanted one ever since. I'm really glad to have found this one. It will build as a very nice companion piece to Trumpeter's 1:35th scale SA-2
Dvina
missile, the direct contemporary of the Hercules in the same role. The scales are close enough to display them together without one overshadowing the other.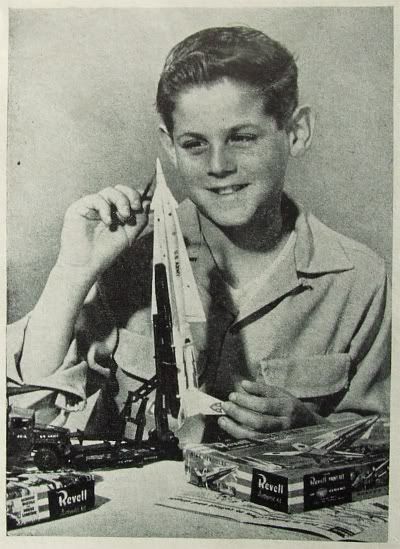 Like the
Dvina
, the Hercules was built in huge numbers and served a very long time. The new instruction sheet, dated 2009, states that between service introduction in 1958 (when it replaced the Ajax, becoming America's second SAM system) and its retirement from domestic service in 1978, 25, 550 units were built. While that may not rival SA-2 production, it is a gigantic investment in a weapon system which, whether conventionally or nuclear-armed, was never fired in anger. Its value as a deterrent, however, must have been considerable, as with a climb envelope of 150, 000 feet and a speed at propulsion burn-out typically around mach 3.65, oncoming bomber formations would be sitting ducks.
I see lots of rivets, as was standard detailing at the time, and I'll have to research the real missile to see what was actually visible. It strikes me I might sand away the rivets before assembly, possibly redrilling some or all if I can find a fine enough bit, and if photographs show them contrasting with the gloss white finish. I'll be most interested to see how this old classic builds, and one day perhaps come across other examples to depict at different points in the weapon's service lifetime, or even create a battery diorama. I hope the re-release sees an enthusiastic response, and that Revell will be encouraged to release more of their early subjects in rejuvenated form. (I would love to build their 1:40th scale Scissors Bridge, the bridge-layer based on the M48 Patton-series MBT chassis.)
Here are some great research links for the Nike Hercules missile:
http://en.wikipedia.org/wiki/Nike_Hercules
http://en.wikipedia.org/wiki/Project_Nike
Ed Thelen's Nike Missile Web Site
Directory of U.S. Military Rockets and Missiles, MIM-14
The Nike Missile System, A Concise Historical Overview
Index of Nike-Hercules Photographs
The Nike Site
These are some highlights. Just Google "Nike-Hercules missile," there's lots more out there!