There are always kits we remember from childhood, or kits we never knew when they were available but heard about long after. Aurora's
Seaview
, from
Voyage to the Bottom of the Sea
, is one of those for me.
I only heard about it 15 years after the moulds were lost in the neo-legendary Amtrak wreck that destroyed so many of the old classics, when it was featured as the very first instalment in the "Classic Kits" series in FineScale Modeler. I checked around to see if anyone had one and located one at Hobby Bounties in Singapore: if I remember correctly, the price was equivalent to $1000 Australian dollars in the early 1990s, the highest price I personally have ever seen on a classic kit. Needless to say, I didn't buy it! My memory may be playing tricks, but I remember it being a three-figure sum of some sort.
Imagine my excitement when I heard several years later that Aurora-retool firm Polar Lights, in the course of recreating many of the lost classics, were resurrecting the
Seaview!
I determined to have one at once, but it never happened. The kit was 'new stock' and thus 'around' and there was no urgency to buying it if dollars were tight for other reasons. In the odd way things happen, the retool has itself become a traded commodity and I recently picked one up on eBay for a good price. The precise recreation of the original is amazing, the actual box art and design from 1967, the identical plans with a few extras to denote the 2002 issue.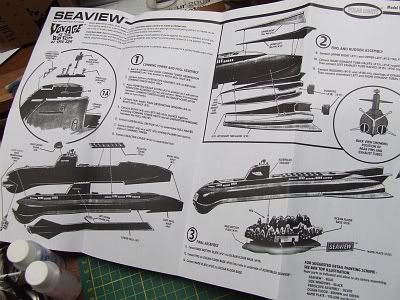 Here's a piece of history brought back to life and itself now a thoroughgoing legend in its genre, something few would have ever expected to happen, the remanufacture of a classic. Of course, there are many who would point out that in regenerating a classic product one regenerates all the shortcomings of that product. It's the 1961 movie version of the sub, not the configuration of the series (which itself varied in detail between the 110 episodes), the detail level is sparse, and at around 13" long she's not very big. A resin update set was made for it to build the series window configuration and the Flying Sub hangar: the AM guys will always ride to the rescue! There have of course been plenty of much larger versions produced in resin in the last decade and a half, and we now have Moebius's ultimate kit, injection moulded and nearly 40" long, for which a plethora of after market add-ons have been produced – even including complete radio control and power system to build a sea-going
Seaview
that will dive in your swimming pool!
Next to that, the old classic pales to insignificance, but you know what? Nobody will build the operational boat, or even the 40-inch display masterpiece, in a weekend, and have at on shelf or desk, beautifully airbrushed and weathered, by Sunday night. And there's the fun part: there are many small scale submarine kits and this one falls right in to that range as a science fiction classic that has sailed on in the hearts of it's fans for all 45 years since the series premiered (on September 14, 1964, at 7:30 PM, EDT, on the ABC Network, for those who like their facts - with thanks to those who keep track of such things!) So there's room for all the versions and all the kits.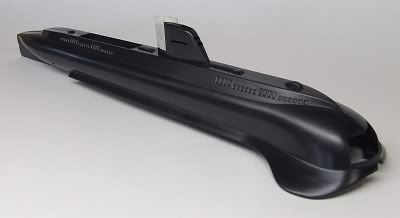 I have only one criticism: Polar Lights moulded it in black plastic. Maybe they were being true to the original, but black is very difficult to work with, and I find it rather depressing. It's a good job she'll be a quick build, I can get her into some nice grey primer, and relax into painting and weathering thereafter.
I finally have that
Seaview
I always wanted! The companion piece to the Aurora 1:64th scale
Flying Sub
that was reissued by Monogram in the late 1990s and which has been part of my stash ever since. And … I guess it'll tide me over until I can assemble the big bucks to tackle the Moebius masterpiece. So keep watch and I'll post a review when I build her.